Pinterest to uśpiony gigant w świecie mediów społecznościowych. Każdy wie, jak opłacalny może być Facebook, Instagram i Google, natomiast Pinterest jest wykorzystywany przez, w porównaniu do wyżej wymienionych, zaledwie garstkę osób. Ale to wcale nie ujmuje jego sile, wręcz przeciwnie! Poniżej kilka porad, jak uczynić z Pinteresta źródło odwiedzających w Twoim e-sklepie.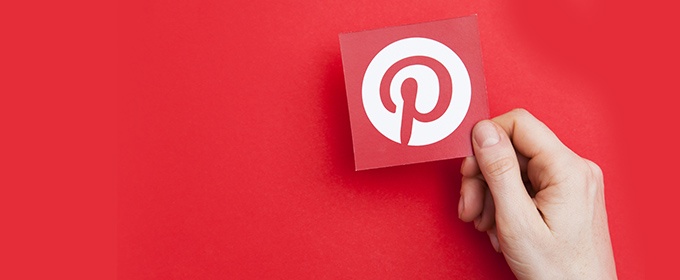 Co to jest Pinterest?
Pinterest to serwis społecznościowy, w którym użytkownicy przypinają interesujące / inspirujące ich treści wizualne do tablicy na swoim profilu. Mogą się nimi między sobą dzielić i je komentować.
Jakie treści znajdziemy na Pinterest? Głównie te związane z wnętrzami, branżą odzieżową i kosmetyczną. Jeśli chodzi o użytkowników, to dominują kobiety (60%), lecz w ostatnich latach sukcesywnie przybywa na nim mężczyzn.
📚Przeczytaj też: Grupy docelowe w social mediach
1. Im więcej przypinamy, tym lepiej
Każdy, kto korzysta z Pinterestu do celów prywatnych, wie, że rzadko przypina się tylko raz. W poszukiwaniu inspiracji przypina się dziesiątki zdjęć i pomysłów. Zamiast tylko raz lub dwa razy dziennie wstawiać post na Pintereście, należy raczej przypinać je 10 razy w ciągu dnia.
Narzędzia takie jak Buffer mogą pomóc w automatyzacji, więc nie musisz zajmować się marketingiem na Pintereście 10 razy dziennie.
Zapamiętaj: Pinterest żyje z różnorodności i nowych pomysłów. Nie pokazuj samego przedmiotu. Pokaż klientom co mogą z nim zrobić! To z pewnością wzbudzi w nich zainteresowanie Twoim produktem.
Spraw również, by to, co przypinasz, generowało ruch na Twojej stronie internetowej. By tak się stało, Twoje piny muszą być nie tylko atrakcyjnie wizualnie, by go generować, ale powinny zawierać również linijki kodu, które pomogą Ci ten ruch śledzić. Instrukcję ich zamieszczania oraz fragmenty kodu znajdziecie w Centrum Pomocy Pinterest.
2. Optymalny rozmiar pinów
Według wewnętrznego bloga Pinterest najlepiej sprawdzają się piny pionowe. Ponadto ujawniono, że najlepszym formatem zdjęć na Pintereście jest 2:3 lub 1:3,5, o szerokości minimalnej 600 pikseli.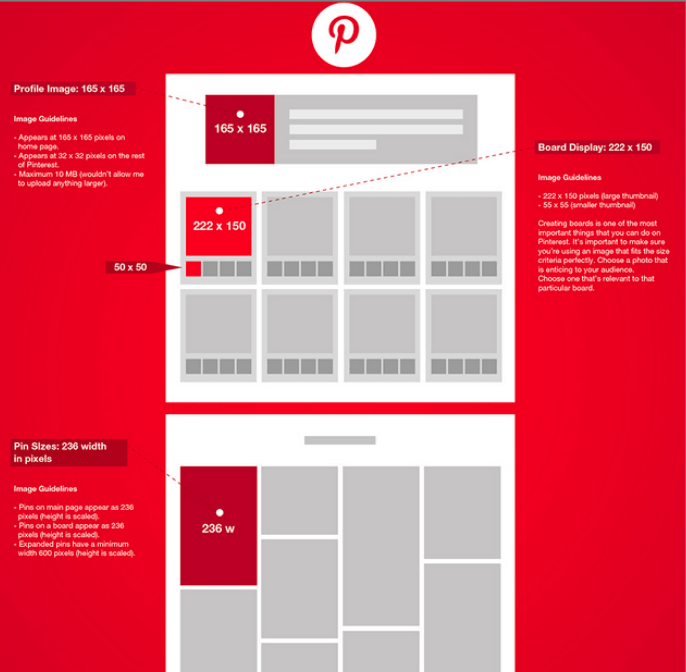 Co to jest proporcja boków? Jest to proporcja szerokości i wysokości zdjęcia względem siebie. Przykłady proporcji boków 2:3…
szerokość 600 pikseli i wysokość 900 pikseli

szerokość 800 pikseli i wysokość 1200 pikseli
Proporcje boków 1:3,5 mogą być następujące:
szerokość 600 pikseli i wysokość 2100 pikseli,

szerokość 400 pikseli i wysokość 2800 pikseli.
Na poniższym zdjęciu przedstawiono proporcję boków 2:3.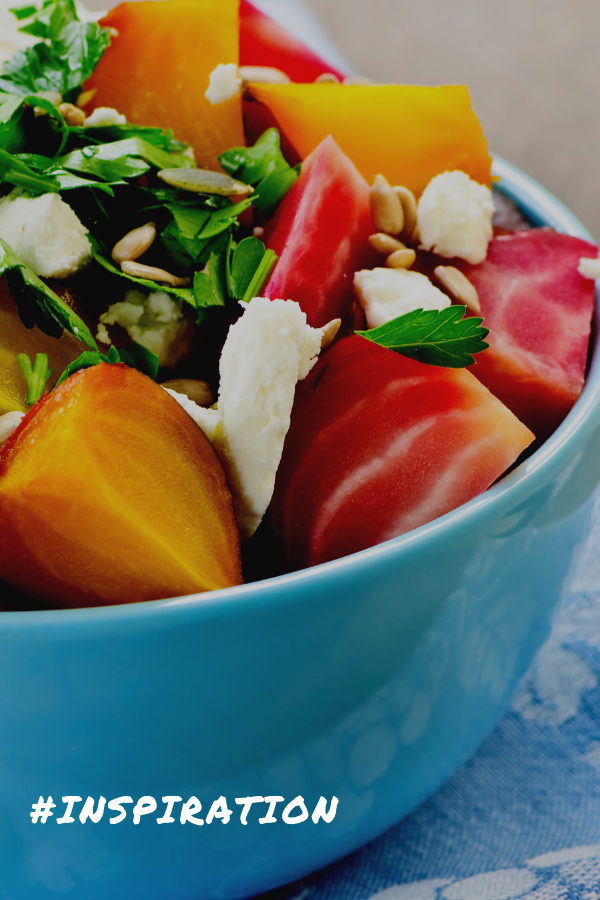 3. Wstawiaj dobre opisy pinów
Weź pod uwagę, że Pinterest jest właściwie wyszukiwarką z aspektem społecznym. Podobnie jak w klasycznym Google SEO, zwracaj również uwagę na to, aby piny były łatwe i proste do znalezienia.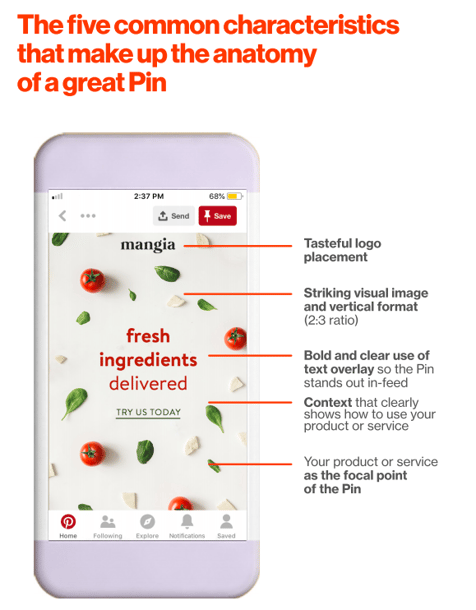 Zastanów się nad wstawieniem przy swoich pinach pomocnego opisu. Obowiązują takie same zasady jak w przypadku opisu produktu w sklepie internetowym.
Napisz o pomocnych szczegółach,

Używaj ważnych słów kluczowych,

Lepiej opisać coś bardziej szczegółowo, niż bardzo krótko, zostawiając niedopowiedzenia,

Pisz językiem swojej grupy docelowej i nie stosuj sztampowych tekstów, które stosuje konkurencja,

Użyj techniki Call to Action, jeżeli jest to uzasadnione.
Pinterest zdradza nawet, co nie powinno znaleźć się w opisie pinu lub na co zwracać uwagę, aby były one skuteczne:
Stosuj prawidłową pisownię wielkich i małych liter oraz interpunkcję,

Nie wstawiaj hashtagów,

Nie przekazuj komunikatów reklamowych, np. "25% zniżki" lub "Dwa za 10 euro!"

Nie stosuj wezwań do działania związanych z pieniędzmi, np. "Kup teraz!"

Nie wstawiaj informacji o funkcjach Pinterestu, np. "Przypnij teraz!"
4. Twórz szybkie i dobre projekty dzięki... Canvie
Kto nie ma talentu do pracy z Photoshopem, może sobie pomyśleć, że nie jest mu dane tworzenie udanych pinów, które później przyciągną gości na jego stronę internetową.
Nie ma jednak powodu do zmartwienia. Dla wszystkich, którzy nie są mistrzami kreatywności, dostępne jest rozwiązanie zdejmujące znaczny ciężar pracy: Canva.
Canva to program online pozwalający na szybkie i łatwe tworzenie pinów (i wielu innych rzeczy). Dzięki przygotowanym projektom graficznym we właściwej rozdzielczości narzędzie pozwala zaoszczędzić wiele czasu podczas tworzenia pinów.
Dostępna jest wersja bezpłatna i Work, kosztująca około 10 euro miesięcznie. Kto chce pracować jak profesjonalista, nie będzie unikać inwestycji we wsparcie specjalistów od projektowania. Na początek Canva na pewno wystarczy!
5. Testowanie, analizowanie i wyznaczanie priorytetów
W języku angielskim istnieje zwrot to double down on sth., co można przetłumaczyć jako podwojenie stawki. W marketingu ten zwrot często ma jednak bardziej skrajne znaczenie.
Po znalezieniu strategii marketingowej, która wygląda na skuteczną, należy się na niej skupić i nie poświęcać zbyt dużo czasu ani pieniędzy na inne działania marketingowe.
Zatem skoncentruj się na tym, co działa. Twórz takie piny, w których zauważasz, że Twoi fani je lubią, nawet jeżeli nie należą one do Twoich ulubionych.
Aby źródłem ruchu nie był tylko Pinterest, lecz również inne platformy mediów społecznościowych, potrzebne jest zbudowanie silnej marki. Jak to zrobić? Koniecznie zajrzyj do naszego artykułu, jak wzmocnić swoją markę w mediach społecznościowych.