Oferujesz świetne produkty, masz dobrą obsługę klienta, ale Twoja strona nie pojawia się jeszcze w czołówce wyników wyszukiwania Google? Skorzystaj z naszych podstawowych wskazówek dotyczących optymalizacji pod kątem wyszukiwarek (SEO) i spraw, by Twoja strona była bardziej widoczna.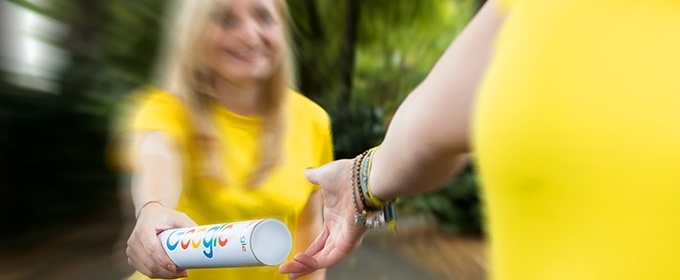 1. Załóż konto Google
Aby Twój sklep internetowy zaczął pojawiać się w Google, zalecamy utworzenie konta na platformie Google Search Console (wcześniej Google Webmaster Tools).
Wprawdzie Google i tak odnajdzie Twoją witrynę internetową, ale platforma Search Console oferuje wartościowe informacje, które możesz wykorzystać do jej optymalizacji:
słowa kluczowe, po użyciu których Twoja witryna będzie znajdywana w Google;
"crawl errors", czyli te adresy URL Twojej domeny, które nie zostały znalezione i dlatego należy je poprawić;
liczbę stron zaindeksowanych przez Google (czyli znanych) stron.
Aby upewnić się, że Google znajduje i indeksuje także wszystkie podstrony, należy dodać w Search Console mapę witryny. Mapa witryny jest wykazem wszystkich stron, które powinny zostać odnalezione.
Aby mieć dostęp do danych Twojej witryny internetowej, musisz udowodnić, że jesteś jej właścicielem. W tym celu zazwyczaj do Twojego kodu źródłowego musi zostać dodany pewien wycinek kodu źródłowego. Natomiast jeżeli korzystasz już z Google Analytics lub menedżera tagów Google, możesz zweryfikować swoją witrynę internetową za ich pomocą.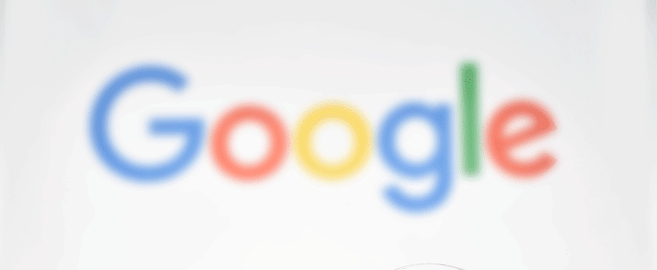 2. Zidentyfikuj słowa kluczowe
Czasy, w których liczba słów kluczowych decydowała o zajmowaniu czołowych pozycji w wyszukiwarkach, już dawno minęły.
Musisz jednak znać słowa kluczowe, których używają klienci, szukając Twoich produktów. Czasami fachowcy posługują się zbyt technicznym lub profesjonalnym słownictwem.
Jeżeli nie masz pewności co do słów kluczowych, zapytaj przyjaciół i znajomych spoza swojej branży, jak nazwaliby Twoje produkty. Możesz także skorzystać z przydatnych do tego narzędzi, o których ostatnio pisaliśmy, np. Keyword Tool.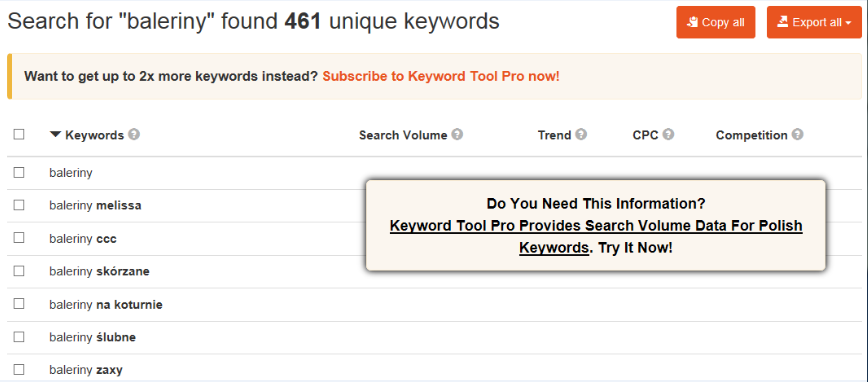 3. Stwórz odpowiednią treść
Jeśli już zebrałeś odpowiednie słowa kluczowe, musisz je właściwie wykorzystać w tekstach, opisach zdjęć itd.
Unikaj jednak stosowania czystych tekstów SEO do opisu kategorii.
Dość często występującym zjawiskiem jest umieszczanie na stronach internetowych kategorii, w której opisany jest rozwój produktu, ponieważ pozwala to na umieszczenie odpowiedniej liczby słów kluczowych, pasujących pod względem tematycznym.
Przykładowo: klientów nie interesuje fakt, w którym stuleciu założono pierwszą parę jeansów – dla nich może być ważne to, jakie kroje oferowane są w sklepie.
Należy także zwrócić uwagę, aby w witrynach produktowych nie kopiować tekstów producenta. Powielanie treści zmniejsza szanse na znalezienie Twojego sklepu.
4. Skoncentruj się na użytkowniku
Google od lat podkreśla, że witryny internetowe mają być optymalizowane nie dla wyszukiwarek, ale dla użytkowników.
Trzeba pamiętać, że żaden sprzedawca nie zarobi wyłącznie na ruchu w witrynie, uzyskanym dzięki dobremu uplasowaniu w wynikach wyszukiwania. Obrót powstaje dopiero wtedy, gdy użytkownik chętnie korzysta z witryny i składa zamówienia, które ten obrót zwiększają.
W ten sposób sygnały użytkownika, które Google otrzymuje poprzez najróżniejsze źródła, takie jak przeglądarka Chrome, trafiają do algorytmu rankingu.

Jeśli okaże się, że użytkownik opuszcza Twoją witrynę w parę sekund po kliknięciu na wyniki wyszukiwania, nie jest to dla wyszukiwarki dobry sygnał.
Pozytywnym sygnałem jest dłuższa wizyta na stronie oraz więcej kliknięć. Dzięki temu notowania Twojej witryny internetowej idą w górę.
5. Analizuj i optymalizuj
Aktualność witryny internetowej pozytywnie wpływa na optymalizację wyszukiwarek, dlatego na bieżąco musisz optymalizować i dostosowywać swój sklep.
Sprawdź w rankingu, na jakich pozycjach oraz dla jakich słów kluczowych znajdują się dane witryny.
Jeżeli stwierdzisz, że jedna z Twoich witryn produktowych dla trafnego słowa kluczowego pojawia się już na pierwszej stronie wyników wyszukiwania, kontynuuj dostosowanie strony do tego słowa kluczowego.
Natomiast jeżeli za pomocą narzędzia analizy internetowej odkryjesz, że długość wizyty w niektórych witrynach przypada poniżej średniej, dodaj do nich treść, która zatrzyma użytkownika. W naszym bezpłatnym poradniku opisujemy jak taką treść tworzyć.
Podsumowanie: zacznij małymi krokami i optymalizuj coraz to nowe miejsca w witrynie. Optymalizacja pod kątem wyszukiwarek to zadanie wymagające ciągłego zaangażowania. Najważniejsze: bądź na bieżąco z nowościami i pamietaj, że SEO ciągle się zmienia, dlatego nie korzystaj z przestarzałych wskazówek.