Chcesz zaprojektować efektywne komunikaty do swoich klientów? Może Ci w tym pomóc model AIDA. Technika ta jest szeroko stosowana w świecie marketingu. Na czym polega? Kiedy powinieneś ją stosować? Jak możesz ją wykorzystać, aby zwiększyć swój biznes?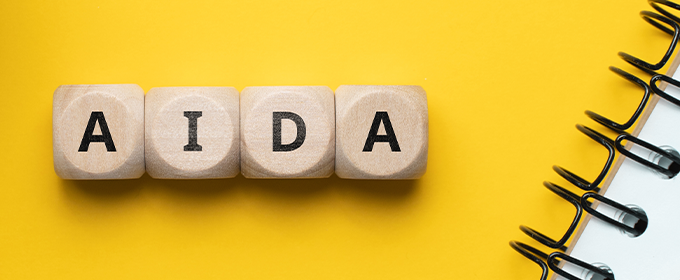 Czym jest model AIDA?
AIDA nie jest w żadnym wypadku nową koncepcją. Została ukształtowana pod koniec XIX wieku przez amerykańskiego specjalisty ds. reklamy, Eliasa St. Elmo Lewisa. Model AIDA jest więc jedną z najstarszych metod marketingowych.
Akronim AIDA tłumaczy cztery etapy, przez które przechodzi konsument w procesie zakupu:
A: Attention – Uwaga. Musisz przykuć uwagę konsumenta;

I: Interest – Musisz pobudzić jego zainteresowanie;

D: Desire – Musisz sprawić, by klient chciał nabyć produkt.

A: Action – Działanie. Wreszcie celem jest wywołanie aktu zakupu.
Jeśli zintegrujesz te elementy w swoim lejku konwersji, to masz duże szanse na zwiększenie sprzedaży i pozyskanie klienta. Formuła AIDA jest sprawdzoną techniką, która jest szczególnie skuteczna w określaniu podróży zakupowej, która konwertuje.
📚Przeczytaj też: Marketing mix: definicja i najważniejsze punkty
Jakie są ograniczenia tej metody?
Pomimo zalet modelu AIDA, niektórzy marketingowcy uważają, że można go ulepszyć. Ma on bowiem ograniczenia:
podział etapów: elementy uwagi i zainteresowania są czasami ze sobą mieszane. Trudno jest je jednoznacznie rozdzielić,

brak uwzględnienia innych uczuć: można by dodać inne etapy, aby wzbogacić metodę. Należałoby do nich zaliczyć zaufanie do marki, które jest niezbędne do każdego działania zakupu.
Model AIDA: kiedy należy go stosować?
Formułę AIDA można wykorzystać do zaprojektowania i przeprowadzenia wielu akcji marketingowych:
📚Przeczytaj też: Jak wypromować sklep internetowy? 7 kroków
Jak wdrożyć formułę AIDA?
Aby zrozumieć, jak najlepiej wdrożyć tę metodę, przyjrzyjmy się każdemu z etapów.
Cztery etapy, z definicji, następują po sobie. Jeśli nie uda Ci się osiągnąć celu związanego z jednym elementem, nie możesz przejść do kolejnego. Nie będąc w stanie przyciągnąć uwagi konsumenta, nie będziesz w stanie zaostrzyć jego apetytu.
1. Przyciągnij uwagę klienta
Aby dobrze sprzedać produkt, musisz być słyszalny, widoczny. Innymi słowy, w celu wyróżnienia się na tle konkurencji, musisz być w stanie przykuć uwagę klienta za pomocą swojego komunikatu, reklamy lub oferty.
Pierwszy etap modelu AIDA to najtrudniejszy element w realizacji tej strategii. Jak to zrobić? Wykorzystaj mocne zdjęcia, atrakcyjne kolory, humor i zaskoczenie.
📚Przeczytaj też: Jak dobrać kolory na stronę internetową?
2. Wzbudź zainteresowanie
Po przykuciu uwagi musisz zachęcić konsumenta, aby spojrzał dalej. Oznacza to zaangażowanie Twojej grupy docelowej, stworzenie powiązania między jej potrzebą a Twoim produktem.
Jak to zrobić? Podkreślaj cechy produktu, stosuj storytelling, personalizuj swoje komunikaty.
Aby przejść przez ten etap, konieczne jest dobre poznanie swojego targetu. Pomocne w tym będzie stworzenie buyer persony.
Wzbudzać zainteresowanie warto nie tylko w kampaniach reklamowych, ale też na stronach produktu. Pobierz nasz bezpłatny poradnik, z którego dowiesz się, jak tworzyć wzbudzające zaufania opisy produktów i tym samym zwiększyć sprzedaż:
3. Stwórz pożądanie
Gdy konsument zainteresuje się Twoim produktem, teraz kluczowe jest stworzenie nieodpartego pragnienia posiadania go. Użytkownik musi wyobrazić sobie korzystanie z artykułów, przeżywanie doświadczeń, które podkreśliłeś w swoim przekazie.
Jak to zrobić? Udowodnij klientowi, że produkt może pomóc mu rozwiązać jego problem. Graj na emocjach, zmysłach. Podkreśl korzyści, jakie potencjalny kupujący odniósłby, gdyby miał ten produkt.
4. Zaproś do działania
Oczekiwaną akcją jest zakup. Musisz wywołać sprzedaż. To, co abstrakcyjne, staje się konkretne. Zamieniasz lead lub prospekt w klienta.
Jak to zrobić? Użyj call to actions. Stwórz poczucie pilności i rzadkości, wspominając o ograniczonych zapasach. Zaoferuj atrakcyjną cenę, zniżki last minute lub bonusowy prezent przy każdym zakupie.
Ta publikacja jest tłumaczeniem artykułu w j. francuskim: Méthode AIDA : comment l'utiliser pour booster votre business ?