W świecie marketingu istnieją niezliczone ilości strategii, modeli, zasad i teorii. Jedną z nich jest formuła AIDA. Ale co kryje się pod tym określeniem i w jaki sposób można wykorzystać tę formułę do zwiększenia obrotów?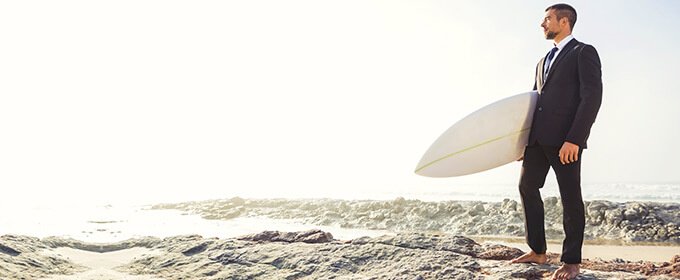 W porównaniu ze stosunkowo nowymi strategiami marketingowymi takimi jak Influencer Marketing zasada AIDA to już klasyk. Została ona sformułowana już w 1898 roku przez amerykańskiego specjalistę ds. marketingu, Elmo Lewisa, i składa się z czterech faz.
Mimo że jest to już stosunkowo "wiekowa" zasada, znajduje ona zastosowanie po dziś dzień i nadal stanowi jedną z najważniejszych podstaw nowoczesnego marketingu.
Ale co właściwie oznacza formuła AIDA?
Nazwa składa się z początkowych liter poszczególnych faz:
faza: Attention (uwaga)
faza: Interest (zainteresowanie)
faza: Desire (pragnienie/życzenie)
faza: Action (działanie)
Pierwsza faza jest najważniejsza (i najtrudniejsza). To tutaj marketing danej firmy musi się wyróżnić na tle innych firm i bodźców.
W pierwszej kolejności reklamodawca musi przyciągnąć uwagę potencjalnego klienta. Zasada ta nie rozróżnia marketingu online i offline.
W przypadku osiągnięcia tego celu osoba, do której jest kierowana reklama, zaczyna interesować się produktem.
Po przejściu przez potencjalnego klienta przez dwie pierwsze fazy reklamodawca może przy użyciu różnych środków zadbać o to, aby w kliencie zakiełkowało pragnienie/życzenie nabycia produktu.
W czwartej fazie osoba, do której jest kierowana reklama, jest zachęcana do spełnienia swojego życzenia i wykonania określonego działania, np. zakupu.
Wystarczy się rozejrzeć, aby zauważyć, że również dzisiaj zasada ta znajduje zastosowanie w wielu kampaniach reklamowych. Z prostej przyczyny: Odwołuje się do ludzkiej natury!
Ogłoszenia reklamowe kierujące potencjalnych klientów bezpośrednio do standardowej strony produktu rzadko są tak skuteczne jak działania marketingowe, u których podstaw leży model AIDA. Nikt nie chce kupować kota w worku.
Abstrakcyjny przykład:
Mało kto zaręcza się na pierwszej randce. Na początku musi być kontakt wzrokowy (uwaga), potem para się lepiej poznaje (zainteresowanie), a dopiero później czasami pojawia się pomysł zaręczyn (pragnienie). Bywa, że z takiej motywacji zawierany jest potem związek małżeński (działanie).
Jak już wspomniano, najważniejsza jest pierwsza faza, ponieważ bez uwagi nie doszłoby do działania. Nie chodzi tu jednak o zauważenie przez możliwie największą liczbę osób, lecz o skoncentrowanie się na potencjalnych klientach.
Dlatego, aby uniknąć marnotrawienia budżetu reklamowego, konieczne jest dokonanie w pierwszej fazie odpowiedniego filtrowania. Właściciel pizzerii powinien zadać pytanie:
"Masz ochotę na pyszną pizzę?" A nie: "Chcesz coś zjeść?"
Pewnie wiele osób chciałoby coś zjeść, ale nie każdy ma ochotę na pizzę. Po przyciągnięciu uwagi entuzjastów pizzy zainteresuj ich swoją ofertą pizzy z pieca.
Ochotę na pizzę lub każdy inny produkt można wzbudzić w marketingu online za pomocą strony docelowej, na której wykorzystywane są pozytywne i negatywne emocje i czynniki.
Gdy tylko potencjalny klient poczuje chęć posiadania produktu i zechce go koniecznie kupić, należy mu tę czynność umożliwić.
Pamiętaj, aby przy planowaniu następnej kampanii reklamowej móc twierdząco odpowiedzieć ma następujące pytania:
Czy ta reklama będzie istotna dla potencjalnych klientów i czy przyciągnie ich uwagę?
Czy dzięki tej reklamie wzbudzę zainteresowanie potencjalnych klientów?
Czy zainteresowanie może przerodzić się w życzenie dotyczące mojej oferty? Czy podaję wystarczająco dużo argumentów przemawiających za tym, aby osoba, do której jest skierowana reklama zechciała kupić produkt?
Czy umożliwiam zainteresowanym wykonanie pożądanego działania?
Każdy z tych punktów można oczywiście optymalizować w nieograniczonym zakresie. Na początek wystarczy jednak móc odhaczyć kolejne punkty tej małej listy kontrolnej. Dotyczy to zarówno zasady AIDA realizowanej w formie offline jako reklama na plakatach, jak i online — jako reklama na Facebooku.